Armoured Personnel Carriers

Search for popular Armored Personnel Carrier pictures
Amphibious Assault Vehicle
M113
Pandur
Stryker Vehicle
Armored personnel carriers (APCs) are light armored fighting vehicles designed to transport infantry to the battlefield.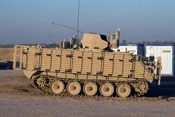 An M113 varient.
They are usually armed with only a machine gun although variants carry recoilless rifles, anti-tank guided missiles (ATGMs), or mortars. They are not really designed to take part in a direct-fire battle, but to carry the troops to the battlefield safe from shrapnel and ambush. They may have wheels, tracks, or both as in the half-track.
Examples include the American M113 (tracked), the Belgium Pandur 6x6 family (wheeled), the US Army IAV Stryker vehicle (wheeled), and the American M3 (half-tracked).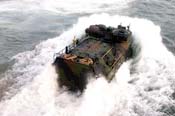 Amphibious Assault Vehicle
Most armored personnel carriers use a diesel engine comparable to that used in a large truck or in a typical city bus (APCs are often known to troops as Battle Taxis or Battle Buses). The M113 for instance used the same engine as the standard General Motors urban bus.
Armour on APCs are usually composed of simple steel or aluminium, sufficient for protection against small fire arms and most shell fragments. Just about any type of anti-tank weapon can defeat the armour of an APC.
The usual armament for an APC is a 12.7 (.50") or 14.5 mm heavy machine gun. This is mounted on top of the vehicle, either on a simple pintle mount, sometimes with a gun shield, or a small turret. Sometimes an automatic grenade launcher is used instead.
Many APCs are amphibious. Usually tracked APCs are powered by their tracks in the water, and wheeled APCs have propellors or water jets. Preparations for amphibious operations usually comprises checking the integrity of the hull and folding down a trim vane in front. Swimming required fairly still waters, and good entry and exit points. Speed in the water is typically 3–6 km/h. The Amphibious Assault Vehicle (AAV), is a fully tracked amphibious landing vehicle, and is the current amphibious troop transport of the United States Marine Corps.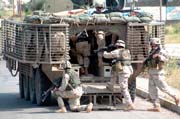 U.S. Army Stryker Vehicle
The IAV Stryker is a family of eight-wheeled all-wheel-drive armored combat vehicles. The vehicle comes in several variants with a common engine, transmission, hydraulics, wheels, tires, differentials and transfer case. Unlike many modern armored personnel carriers, the Stryker is not an amphibious vehicle, but watertight combat hatch seals allow it to ford water up to the tops of its wheels.
The Stryker relies on its speed for the majority of its defense against heavy weapon systems. It is not capable of engaging heavily armored units and relies on other units to control threats outside of its classification.