Bombers

Search for popular Bomber pictures
B-1 Lancer
B-2 Spirit
B-52 Stratofortress
Bomber Aircraft
A bomber is a military aircraft designed to attack ground and sea targets, primarily by dropping bombs on them.
Strategic bombers are primarily designed for long-range strike missions with bombs against strategic targets such as supply bases, bridges, factories, shipyards, and cities themselves, in order to damage an enemy's war effort. Examples include the: B-17 Flying Fortress, B-24 Liberator, B-29 Superfortress, B-36, B-47, B-52 Stratofortress, and the General Dynamics F-111.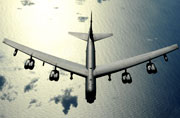 A B-52 Stratofortress
Tactical bombers are smaller aircraft that operate at shorter range, typically along with troops on the ground. This role is filled by many designs, including those listed below. In modern terms, any combat aircraft that is not a purpose-designed strategic bomber falls into this category.
Fighter-bombers (also called tactical fighters, strike fighters, and attack fighters) are multi-role combat aircraft which can (at least theoretically) be equipped for either air-to-air combat or air-to-ground combat. Many fighter bombers were also designed to engage in aerial combat immediately after attacking ground targets. Modern multi-role combat aircraft are designed to fulfill multiple roles due to budget restrictions as often as they are for versatility. Examples are the F-4 Phantom II, the F-15E Strike Eagle, F-16 Fighting Falcon, and the F/A-18 Hornet.
In the past, bombers were a separate type of aircraft, and often looked dramatically different from other aircraft. This was due largely to the lack of power in aircraft engines, meaning that to carry any reasonable payload, the aircraft had to have multiple engines. The result was a much larger aircraft, one with a reasonable useful load fraction for the role.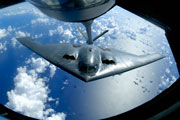 A B-2 Spirit refueling.
Bombers have carried armament for defense against enemy aircraft only. They are not intended nor designed to actively engage in combat with other aircraft. The majority have been relatively large and unmaneuverable - although some smaller designs have been used as the basis for specialist fighters such as the night-fighter. Attack aircraft are smaller, faster, and more agile, but when armed for a ground attack mission, less so than a fighter. Attack aircraft may carry air-to-air armament, but typically only infrared-guided weapons (such as the AIM-9) for defense
In modern air forces, the distinction between bombers, fighter-bombers, and attack aircraft has become blurred. Many attack aircraft, even ones that look like fighters, are optimized to drop bombs, with very little ability to engage in aerial combat. Indeed, the design qualities that make an effective low-level attack aircraft make for a distinctly inferior air superiority fighter, and vice versa. Conversely, many fighter aircraft, such as the F-16, are often used as bomb trucks, despite being designed for aerial combat. Perhaps the one meaningful distinction at present is the question of range: a bomber is generally a long-range aircraft capable of striking targets deep within enemy territory, whereas fighter bombers and attack aircraft are limited to theater missions in and around the immediate area of battlefield combat. Even that distinction is muddied by the availability of aerial refueling, which greatly increases the potential radius of combat operations.
B-1B Lancer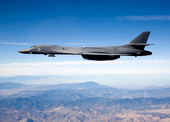 A B-1B Lancer
The B-1 Lancer is a strategic bomber used by the United States Air Force. Carrying the largest payload of both guided and unguided weapons in the Air Force inventory, the multi-mission B-1 is the backbone of America's long-range bomber force. It can rapidly deliver massive quantities of precision and non-precision weapons against any adversary, anywhere in the world, at any time. The B-1 has a blended wing body configuration, with variable-sweep wing, triangular fin control surfaces and four turbofan engines, to improve range and speed with enhanced survivability. Forward-swept wing settings are used for takeoff, landings and high-altitude maximum cruise. Aft-swept wing settings are used in high subsonic and supersonic flight.
B-52 Stratofortress
The B-52 Stratofortress is a long-range, subsonic, jet-powered, strategic bomber that can perform a variety of missions. The bomber is capable of flying at high subsonic speeds at altitudes up to 50,000 feet (15,166.6 meters). It can carry nuclear or precision guided conventional ordnance with worldwide precision navigation capability. In a conventional conflict, the B-52 can perform strategic attack, air interdiction, offensive counter-air and maritime operations. It is highly effective when used for ocean surveillance, and can assist the U.S. Navy in anti-ship and mine-laying operations.
B-2 Spirit
The B-2 Spirit (also known as the Stealth Bomber) is an American heavy bomber with "low observable" stealth technology designed to penetrate dense anti-aircraft defenses and deploy both conventional and nuclear weapons. Along with the B-52 and B-1B, the B-2 provides the penetrating flexibility and effectiveness inherent in manned bombers. Its low-observable, or "stealth," characteristics give it the unique ability to penetrate an enemy's most sophisticated defenses and threaten its most valued, and heavily defended, targets. Its capability to penetrate air defenses and threaten effective retaliation provides a strong, effective deterrent and combat force well into the 21st century.