Constellations

Search for popular Constellation pictures
Big Dipper
Orion
Taurus
A constellation is a group of stars visible within a particular region of the night sky. The word constellation also refers to the region in which a specific group of stars appears. Astronomers have divided the sky into 88 areas, or constellations, with exact boundaries, so that every direction or place in the sky belongs within one constellation.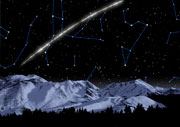 Stream of ancient stars.
The ancient Greeks, Romans, and people of various other early civilizations observed groups of stars in the northern two-thirds of the sky. They named these groups of stars after animals and mythological characters. For example, the constellation Leo was named for a lion, Pisces for two fish, and Taurus for a bull. The constellations Andromeda, Cassiopeia, Orion, and Perseus are named for heroines and heroes in Greek mythology.
Some well-known groups of stars form only part of a constellation. Such smaller groups are called asterisms, which is a group of celestial bodies (usually stars) that appear to form a pattern in the sky or appear visibly related to each other, but are not related to the known constellations,. For example, the Big Dipper is an asterism that lies in the constellation Ursa Major (Great Bear).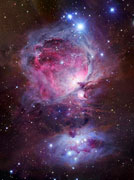 Constellation Orion
Some constellations can be seen only during certain seasons due to the earth's annual revolution around the sun. The part of the sky visible at night at a particular place gradually changes as the earth moves around the sun. Also, observers at different latitudes see different parts of the sky. An observer at the equator can view all the constellations during the course of a year, but an observer at the North or the South Pole can see only a single hemisphere of constellations.
All modern constellation names are Latin proper names or words, and some stars are named using the genitive, or sometimes the ablative of the constellation in which they are found. These are formed by using the usual rules of Latin grammar. Some examples include: Aries → Arietis; Taurus → Tauri; Gemini → Geminorum; Virgo → Virginis; Libra → Librae; Pisces → Piscium; Lepus → Leporis. In addition, all constellation names have a standard three-letter abbreviation assigned by the International Astronomical Union; for example, Aries becomes Ari, Pisces becomes Psc, Sagittarius becomes Sgr and Ursa Major becomes UMa.
Identification of stars within a given constellation includes use of Bayer designations such as Alpha Centauri, Flamsteed designations such as 61 Cygni, and variable star designations such as RR Lyrae. However, many fainter stars will just be given a catalog number designation (in each of various star catalogs) that does not incorporate the constellation name. Frequently, the abbreviated form of the constellation name is used in the star designation, e.g., Alpha Cen, 61 Cyg, RR Lyr.