Galaxies

Search for popular Galaxy pictures
Andromeda Galaxy
Dwarf Galaxy
Milky Way
Spiral Galaxy
A galaxy is a system of stars, dust, and gas held together by gravity. Our solar system is in a galaxy called the Milky Way. Scientists estimate that there are more than 100 billion galaxies scattered throughout the visible universe. Astronomers have photographed millions of them through telescopes. Galaxies can contain many multiple star systems, star clusters, and various interstellar clouds. Galaxies are distributed unevenly in space. Some have no close neighbor. Others occur in pairs, with each orbiting the other. But most of them are found in groups called clusters. A cluster may contain from a few dozen to several thousand galaxies. It may have a diameter as large as 10 million light-years.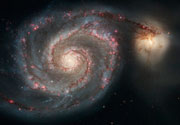 Whirlpool Galaxy
Although it is not yet well understood, dark matter appears to account for around 90% of the mass of most galaxies. Observational data suggests that supermassive black holes may exist at the center of many, if not all, galaxies. They are proposed to be the primary cause of active galactic nuclei found at the core of some galaxies.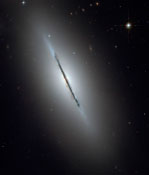 NGC 5866
Historically, galaxies have been categorized according to their apparent shape. A common form is the elliptical galaxy, which has an ellipse-shaped light profile. Spiral galaxies are disk-shaped assemblages with curving, dusty arms. Galaxies with irregular or unusual shapes are known as peculiar galaxies, and typically result from disruption by the gravitational pull of neighboring galaxies. Such interactions between nearby galaxies, which may ultimately result in galaxies merging, may induce episodes of significantly increased star formation, producing what is called a starburst galaxy. Small galaxies that lack a coherent structure could also be referred to as irregular galaxies.
Types & Morphology
Spiral galaxies consist of a rotating disk of stars and interstellar medium, along with a central bulge of generally older stars. The disk resembles a pinwheel, with bright spiral arms that coil out from the central bulge. Like pinwheels, all spiral galaxies rotate, but slowly. New stars are constantly forming out of gas and dust in spiral galaxies. The arms are visible because the high density facilitates star formation, and therefore they harbor many bright and young stars. Smaller groups of stars called globular clusters often surround spiral galaxies. A typical globular cluster has about 1 million stars.
A majority of spiral galaxies have a linear, bar-shaped band of stars that extends outward to either side of the core, then merges into the spiral arm structure. Bars are thought to be temporary structures that can occur as a result of a density wave radiating outward from the core, or else due to a tidal interaction with another galaxy. Many barred spiral galaxies are active, possibly as a result of gas being channeled into the core along the arms. Our own galaxy is a large disk-shaped barred-spiral galaxy.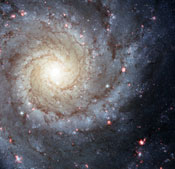 Spiral Galaxy Messier 74
Elliptical galaxies range in shape from almost perfect spheres to flattened globes. The light from an elliptical galaxy is brightest in the center and gradually becomes fainter toward its outer regions. As far as astronomers can determine, elliptical galaxies rotate much more slowly than spiral galaxies or not at all. The stars within them appear to move in random orbits. Elliptical galaxies have much less dust and gas than spiral galaxies, and have a low portion of open clusters and a reduced rate of new star formation. Instead the galaxy is dominated by generally older, more evolved stars that are orbiting the common center of gravity in random directions. In this sense they have some similarity to the much smaller globular clusters.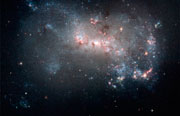 Dwarf irregular galaxy
Irregular galaxies, lack a simple shape. Some consist mostly of blue stars and puffy clouds of gas, but little dust. The Magellanic Clouds are irregular galaxies of this type. Others are made up mostly of bright young stars along with gas and dust.
Peculiar galaxies are galactic formations that develop unusual properties due to tidal interactions with other galaxies. An example of this is the ring galaxy, which possesses a ring-like structure of stars and interstellar medium surrounding a bare core. A ring galaxy is thought to occur when a smaller galaxy passes through the core of a spiral galaxy.
A lenticular galaxy is an intermediate form that has properties of both elliptical and spiral galaxies. They possess ill-defined spiral arms with an elliptical halo of stars.
Despite the prominence of large elliptical and spiral galaxies, most galaxies in the universe appear to be dwarf galaxies. These tiny galaxies are about one hundredth the size of the Milky Way, containing only a few billion stars. Many dwarf galaxies may orbit a single larger galaxy; the Milky Way has at least a dozen such satellites. Dwarf galaxies may also be classified as elliptical, spiral, or irregular. Since small dwarf ellipticals bear little resemblance to large ellipticals, they are often called dwarf spheroidal galaxies instead.
Galaxies move relative to one another, and occasionally two galaxies come so close to each other that the gravitational force of each changes the shape of the other. Galaxies can even collide. If two rapidly moving galaxies collide, they may pass right through each other with little or no effect. However, when slow-moving galaxies collide, they can merge into a single galaxy that is bigger than either of the original galaxies.
Unusual Dynamics & Activities
The Antennae Galaxies
The energy emitted by galaxies comes from various sources. Much of it is due to the heat of the stars and of clouds of dust and gas called nebulae. A variety of violent events also provide a great deal of the energy. These events include two kinds of stellar explosions: (1) nova explosions, in which one of the two members of a binary star system hurls dust and gas into space; (2) much more violent supernova explosions, in which a star collapses, then throws off most of its matter. One supernova may leave behind a compact, invisible object called a black hole, which has such powerful gravitational force that not even light can escape it. Another supernova may leave behind a neutron star, which consists mostly of tightly packed neutrons, particles that ordinarily occur only in the nuclei of atoms. But some supernovae leave nothing behind.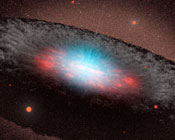 Supermassive Black Hole
Collisions occur when two galaxies pass directly through each other and have sufficient relative momentum not to merge. The stars within these interacting galaxies will typically pass straight through without colliding. However, the gas and dust within the two forms will interact. This can trigger bursts of star formation as the interstellar medium becomes disrupted and compressed. A collision can severely distort the shape of one or both galaxies, forming bars, rings or tail-like structures
Starburst galaxies are characterized by dusty concentrations of gas and the appearance of newly formed stars, including massive stars that ionize the surrounding clouds to create H II regions. These massive stars also produce supernova explosions, resulting in expanding remnants that interact powerfully with the surrounding gas. These outbursts trigger a chain reaction of star building that spreads throughout the gaseous region. Only when the available gas is nearly consumed or dispersed does the starburst activity come to an end. Starbursts are often associated with merging or interacting galaxies. The prototype example of such a starburst-forming interaction is M82, which experienced a close encounter with the larger M81.
Within a billion years of a galaxy's formation, key structures begin to appear. Globular clusters, the central supermassive black hole, and a galactic bulge of metal-poor Population II stars form. During this early epoch, galaxies undergo a major burst of star formation. The evolution of galaxies can be significantly affected by interactions and collisions.