Heavy Artillery & Anti-Air

Search for popular Heavy Artillery & Anti-Air pictures
Howitzer
M109 Paladin
Surface-to-Air Weapons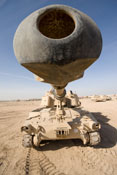 M109 Paladin
Self-propelled artillery (also called mobile artillery or locomotive artillery) vehicles are a way of giving mobility to artillery. Within the term are covered self-propelled guns (or howitzers) and rocket artillery. They are high mobility vehicles given their own integral transport by mounting them on tracked or wheeled chassis, carrying either a large howitzer or other field gun or alternatively a mortar or some form of rocket or missile launcher. They are usually used for long-range indirect bombardment support on the battlefield.
In the past, self-propelled artillery has included direct fire vehicles such as assault guns and tank destroyers. These have been heavily armoured vehicles, the former providing close fire-support for infantry and the latter acting as specialized anti-tank vehicles.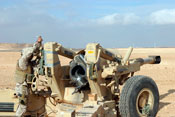 A Marine prepares a howitzer.
Modern self-propelled artillery vehicles may superficially resemble tanks, but they are generally lightly armoured, too lightly to survive in direct-fire combat. However, they protect their crews against shrapnel and small arms and are therefore usually included as armoured fighting vehicles. Many are equipped with machine guns for defense against enemy infantry.
The key advantage of self-propelled over towed artillery is that it can be brought into action much faster. Before the towed artillery can be used, it has to stop, unlimber and set up the guns. To move position, the guns must be limbered up again and brought, usually towed, to the new location. By comparison self-propelled artillery can stop at a chosen location and begin firing almost immediately, then quickly move on to a new position. This ability is very useful in a mobile conflict and particularly on the advance.
Conversely, towed artillery was and remains cheaper to build and maintain. It is also lighter and can be taken to places that self-propelled guns cannot reach, so despite the advantages of the self-propelled artillery, towed guns remain in the arsenals of many modern armies.
Assault guns are self-propelled artillery pieces intended to support infantry in the direct-fire role. They usually have a large-caliber gun capable of firing a heavy high-explosive shell, effective against dug-in troops and fortifications.
Anti-Aircraft Weapons
A self-propelled anti-aircraft weapon (SPAA, also self-propelled air defense, SPAD, or self-propelled anti-aircraft gun, SPAAG) is an anti-aircraft gun or surface-to-air missile launcher mounted on a mobile vehicle chassis.
Specific weapon systems include machine guns, autocannon, larger guns, or missiles, and some mount both guns and longer-ranged missiles. Platforms used include both trucks and heavier armored fighting vehicles such as APCs and tanks, which add protection from aircraft, artillery, and small arms fire for front line deployment.
Anti-aircraft guns are usually mounted in a quickly-traversing turret with a high rate of elevation, for tracking fast-moving aircraft. They are often in dual or quadruple mounts, allowing a high rate of fire. Today, missiles (generally mounted on similar turrets) have largely supplanted anti-aircraft guns, particularly in the minds of generals and military planners. Anti-aircraft guns are still deadly against aircraft at short ranges (within a few kilometers).