Main Battle Tanks

Search for popular Main Battle Tank pictures
Armoured Battle Tank
Amphibious Tanks
M1 Abrams
M60 Patton
The tank is an all terrain, tracked, armoured fighting vehicle, designed primarily to engage enemy forces by the use of direct fire in the frontal assault role. Though several configurations have been tried, particularly in the early experimental days of tank development, a standard, mature design configuration has since emerged to a generally accepted pattern. Firepower is normally provided by a large-caliber main artillery gun, mounted in a fully rotating turret atop a tracked automotive hull, with various additional machine guns throughout. while armour and all-terrain mobility provide protection for the tank its crew. Philosophically, the tank is, by its very nature, a purely offensive weapon.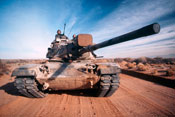 M60 Battle Tank In Motion
Being a protective encasement with at least one gun position, it is essentially a pill box or small fortress, (though these are static fortifications of a purely defensive nature) that can move toward the enemy, hence its offensive utility.
Historically, tanks are divided into 3 categories: Light Tanks (small, thinly armored, weakly gunned, but highly mobile tanks intended for the armored reconnaissance role) Medium Tanks (mid-sized, adequately armored, respectably gunned, fairly mobile tanks intended to provide an optimum balance of characteristics for maneuver combat, primarily against other tanks) Heavy Tanks (large, thickly armored, powerfully gunned, but barely mobile tanks intended for the breakthrough role against fortified lines, particularly in support of infantry formations) Other designations (such as Cavalry Tank, Cruiser Tank, Infantry Tank) have been used by various countries to denote similar roles.
A modern main battle tank incorporates advances in automotive, artillery, and armor technology to combine the best characteristics of all three historic types into a single, all around type. It is distinguished by its high level of firepower, mobility and armour protection relative to other vehicles of its era. It can cross comparatively rough terrain at high speeds, but is fuel, maintenance, and ammunition-hungry which makes it logistically demanding. It has the heaviest armour of any vehicle on the battlefield, and carries a powerful weapon that may be able to engage a wide variety of ground targets. It is among the most versatile and fearsome weapons on the battlefield, valued for its shock action against other troops and high survivability.
Firepower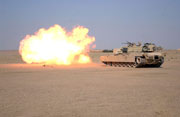 M1A1 Abrams Tank
The main weapon of all modern tanks is a single, large-caliber gun mounted in a fully traversing turret. The typical tank gun is a smoothbore weapon capable of firing armour-piercing kinetic energy penetrators (KEP), also known as armour-piercing discarding sabot (APDS), and/or armour piercing fin stabilized discarding sabot (APFSDS) and high explosive anti-tank (HEAT) shells, and/or high explosive squash head (HESH) and/or anti-tank guided missiles (ATGM) to destroy armoured targets, as well as high explosive (HE) shells for engaging soft targets or fortifications. Canister shot may be used in close or urban combat situations where the risk of hitting friendly forces with shrapnel from HE rounds is unacceptably high.
A gyroscope is used to stabilize the main gun, allowing it to be effectively aimed and fired at the "short halt" or on the move. Modern tank guns are also commonly fitted with insulating thermal jackets to reduce gun-barrel warping caused by uneven thermal expansion, bore evacuators to minimize fumes entering the crew compartment and sometimes muzzle brakes to minimize the effect of recoil on accuracy and rate of fire.
Usually, tanks carry smaller caliber armament for short-range defense where fire from the main weapon would be ineffective, for example when engaging infantry, light vehicles or aircraft. A typical complement of secondary weapons is a general-purpose machine gun mounted coaxially with the main gun, and a heavier anti-aircraft machine gun on the turret roof. These weapons are often modified variants of those used by infantry, and so utilize the same kinds of ammunition.
Protection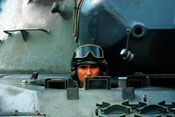 Tank driver of a Leopard 1A5
The measure of a tank's protection is the combination of its ability to avoid detection, to avoid being hit by enemy fire, its resistance to the effects of enemy fire, and its capacity to sustain damage whilst still completing its objective, or at least protecting its crew.
Almost every advanced Main Battle Tank is fitted with the British 'Chobham Armour' design; with two examples being the American M1 Abrams and the German Leopard II. This is the most advanced armour plating available for any tank (with the exception of the British 'Challenger II') and has been proven against a wide array of Rocket Propelled Weaponry and Explosives.
To effectively protect the tank and its crew, tank armour must counter a wide variety of anti-tank threats. Protection against kinetic energy penetrators and high explosive anti-tank (HEAT) shells fired by other tanks is of primary importance, but tank armour also aims to protect against infantry anti-tank missiles, anti-tank mines, bombs, direct artillery hits, and (less often) nuclear, biological and chemical threats, any of which could disable or destroy a tank or its crew.
Even heavily armoured Main Battle Tanks are vulnerable to anti-tank weapons, which are often designed to attack their most vulnerable locations: the top, the bottom, and the tracks. Tanks also retain much of their vulnerability to artillery fire and mines. A tank's heaviest armour is concentrated on its front, leaving its sides and rear less well protected.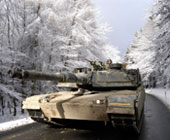 M1 Abrams Main Battle Tank
Mobility
The mobility of a tank is described by its battlefield or tactical mobility and its strategic mobility. Tactical mobility can be broken down firstly into agility, describing the tank's acceleration, braking, speed and rate of turn on various terrain, and secondly obstacle clearance: the tank's ability to travel over vertical obstacles like low walls or trenches or through water. Strategic mobility is the relative ease with which a military asset can be transported between theatres of operation and falls within the scope of military logistics.
Tank agility is a function of the weight of the tank due to its inertia while maneuvering and its ground pressure, the power output of the installed power plant and the tank transmission and track design. In addition, rough terrain effectively limits the tank's speed through the stress it puts on the suspension and the crew. A breakthrough in this area was achieved during World War II when improved suspension systems were developed that allowed better cross-country performance and limited firing on the move. Systems like the earlier Christie or later torsion-bar suspension developed by Ferdinand Porsche dramatically improved the tank's cross-country performance and overall mobility.
A main battle tank is highly mobile and able to travel over most types of terrain due to its continuous tracks and advanced suspension. The tracks disperse the significant weight of the vehicle over a large area, resulting in a ground pressure comparable to that of a walking man. A tank can travel at approximately 25 miles per hour (40 km/h) across flat terrain and up to 43 miles per hour (70 km/h) on roads, but due to the mechanical strain this places on the vehicle and the logistical strain on fuel delivery and tank maintenance, these must be considered burst speeds that invite mechanical failure of engine and transmission systems. Consequently, wheeled tank transporters and rail infrastructure is used wherever possible for long-distance tank transport. The limitations of long-range tank mobility can be viewed in sharp contrast to that of wheeled armoured fighting vehicles.
Specialist Tanks
Tanks have often been modified for special purposes. The most common is to provide armoured capability for combat engineers. These include tanks carrying large-caliber demolition guns, with flails or ploughs for mine-clearing, or flame tanks armed with flamethrowers. The tank occasionally may lose its weapons and the chassis alone may be used, as in bridge-laying tanks.
Another important modification was the amphibious tank. These designs were modified with waterproofing and propulsion systems, to be able to traverse open water.
Many specialist tank roles have been assigned to other vehicle types, though many tank chassis are still used for a wide variety of vehicles, ranging from anti-aircraft roles to bridge layers.
Unmodified tanks can be fitted with equipment, such as mine-clearing ploughs, to give them ancillary roles.
Today, tanks seldom operate alone, as they are organized into armoured units which involve the support of infantry, who may accompany the tanks in armoured personnel carriers or infantry fighting vehicles. They are also usually accompanied by reconnaissance or ground-attack aircraft.