Military Sealift Command

Search for popular Military Sealift Command pictures
Hospital Ship
Navy Ships
Underway Replenishment
Naval Forces
The Military Sealift Command a branch of the United States Navy that controls the replenishment of U.S. Navy ships, conducts spcealized missions, and strategically moves military cargo and supplies around the world. It is made up of a core fleet of Navy ships responsible for providing sealift and ocean transportation for all U.S. military serves and other government agencies. These ships include ammunition ships, fast combat support ships, fleet replenishment oilers, and hospital ships.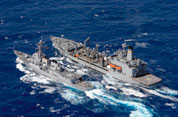 A replenishment at sea.
Naval Fleet Auxiliary Force
The Naval Fleet Auxiliary Force provides direct replenishment support to U.S. Navy warships so they can remain at sea for extended periods without having to come to port. These ships provide all the essentials a Navy ship needs, including fuel, ordnance, food, and other day-to-day supplies while at sea.
Special Mission Support Force
The Military Sealift Command's Special Missions Support Force controls roughly 25 ships that provide services to U.S. military and other government missions. They carry out oceanographic research and hydrographic survey programs, along with collecting data for missile tracking and efficiency. Oceanographic survey ships, ocean surveillance ships, the Sea-based x-band radar platform are a few of the special warfare support ships controlled by the MSC special mission program.
Strategic Sealift Force
The Strategic Sealift Force operates some of the fastest cargo ships in the world. These swift ships are large enough to carry tanks, helicopters, and other military supplies. This enables the United States military to deploy military forces wherever needed for rapid, worldwide deployment.
Ammunition Ships
Ammunition ships are specifically configured to keep the fleet supplied with all types of ammunition and ordnance. The transfer of such ammunition is conducted by slings on ship-to-ship cables or by helicopters, both a method of connected replenishment or vertical replenishment.
Fast Combat Support Ships
The U.S. Navy's largest combat logistics ships are known as fast combat support ships. They are capable of rapidly replenishing task forces, therefore reducing the vulnerability of a ships servicing time. These warships play an integral role in carrier battle groups, bringing an increased capability to the fleet for replenishment of provisions, ordnance, fuel and other commodities.
Fleet Replenishment Oilers
These naval auxiliary ships are specifically designed to conduct underway replenishment of fuel to Navy ships at sea and jet fuel for military aircraft aboard aircraft carriers. Replenishment oilers are much slower and carry less supplies than the fast combat support ships.
Hospital Ships
Hospital ships function as a medical treatment facility when called upon for aid by the U.S. military, while also providing support for disaster relief and humanitarian operations worldwide. Hospital ships are designed to provide emergency care for armed forces deployed in war or other operations. Each ship is equipped with full operating rooms, a large bed hospital facility, radiological services, a pharmacy, optometry lab, medical laboratory and much more.