Planets

Search for popular Planet pictures
Earth
Mars
Exoplanets
Gas Giants
A planet is a large, round heavenly body that orbits a star and shines with light reflected from the star. Eight planets orbit the sun in our solar system. In order of increasing distance from the sun, they are: Mercury, Venus, Earth, Mars, Jupiter, Saturn, Uranus, and Neptune. Many nearly planet-sized objects, called dwarf planets, also orbit the sun. Dwarf planets include Pluto and Ceres. Objects that orbit the sun are divided into three major classes: planets, dwarf planets, and small solar system bodies.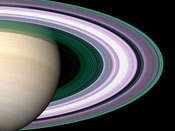 Saturn
The planets in our solar system can be divided into two groups. The innermost four planets; Mercury, Venus, Earth, and Mars, are small, rock worlds. They are called the terrestrial (earthlike) planets. The outer four planets; Jupiter, Saturn, Uranus, and Neptune, are called gas giants or Jovian (Jupiterlike) planets. Pluto was generally considered a planet. However, its small size and irregular orbit led many astronomers to question whether Pluto should be grouped with worlds such as Earth and Jupiter. Pluto more closely resembles other icy objects found in a region of the outer solar system called the Kuiper belt.
The Planets of our Solar System
Mercury is the second-smallest planet in the solar system, the closest planet to the Sun, and the richest in iron. It orbits so close to the sun that temperatures on its surface can climb as high as 800 degrees F. Mercury has no moon and almost no atmosphere. Its surface has been churned up by meteoritic bombardment and is dark and dusty.
Venus is the second planet from the Sun and known as Earth's twin because it resembles Earth in size and mass, though it has no moon. An unbroken blanket of dense clouds permanently envelops Venus. Underneath lies a gloomy, lifeless, dry world with a scorching surface, hotter than that of any other planet. Radar has penetrated the clouds and revealed a landscape dominated by volcanism.
Earth, our home planet, is the third-closest planet to the Sun. The largest of the four rocky planets, it formed approximately 4.56 billion years ago. Earth's internal structure is similar to that of its planetary neighbors, but it is unique in the solar system in that it has abundant liquid water at its surface, an oxygen-rich atmosphere, and is known to support life. Earth's surface is in a state of constant dynamic change as a result of processes occurring within its interior and in its oceans and atmosphere.
Mars is the outermost of the four rock planets. Also known as the red planet because of its reddish-brown appearance, caused by rusty dust on the Martian surface. Mars is a cold, dry world with a thin atmosphere. The surface of Mars has giant volcanoes, a huge system of canyons, and stream beds that look as if water flowed through them in the past. Mars has two tiny moons, Phobos and Deimos. Many spacecraft have landed on or orbited Mars.
Jupiter is the largest and most massive of all the planets. It has more mass than the other planets combined. Like the other Jovian planets, it has gaseous outer layers and may have a rocky core. A huge storm system called the Great Red Spot in Jupiter's atmosphere is larger than Earth and has raged for hundreds of years. Jupiter's four largest moons, Io, Europa, Ganymede, and Callisto, are larger than Pluto, and Ganymede is also bigger than Mercury. Circling Jupiter's equator are three thin rings, consisting mostly of dust particles.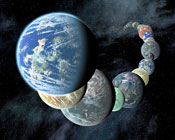 Rocky terrestrial worlds.
Saturn is the second-largest planet. A huge ball of gas and liquid, Saturn has a bulging equator and an internal energy source. A spectacular system of rings encircles the planet itself, and it also has a large family of moons. In 1980 and 1981, the Voyager 2 spacecraft sent back close-up views of Saturn and its rings and moons. The Cassini spacecraft began orbiting Saturn in 2004. It carried a small probe that was designed to be dropped into Titan's atmosphere.
Uranus is the third-largest planet and lies twice as far from the Sun as its neighbor Saturn. It is pale blue and featureless, with a sparse ring system and an extensive family of moons. The planet is tipped on its side, and so from Earth the moons and rings appear to encircle it from top to bottom. Uranus was the first planet to be discovered by telescope.
Neptune is the smallest and the coldest of the four gas giants, as well as the most distant from the Sun. Just one spacecraft, Voyager 2, has been to investigate this remote world. When the probe flew by in 1989, it provided the first close-up view of Neptune and revealed that it is the windiest planet in the solar system. Voyager 2 also found a set of rings encircling Neptune, as well as six new moons.
The Dwarf Planets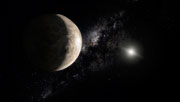 The dwarf planet Makemake
The solar system's dwarf planets consist primarily of rock and ice and feature little or no atmosphere. They lack the mass to sweep their orbits clear, so they tend to be found among populations of similar, smaller bodies. Ceres ranks as the largest of millions of asteroids found between the orbits of Mars and Jupiter. Ceres has a rocky composition and resembles a slightly squashed sphere. The outer dwarf planets generally lie beyond the orbit of Neptune, and are often referred to as a trans-Neptunian object. Pluto was long considered the ninth planet. The New Horizons probe, launched in 2006, was designed to observe Pluto during a flyby in 2015.
There are currently five dwarf planets in the solar system that are recognized by the IAU: Ceres, Pluto, Haumea, Makemake and Eris. There may be as many as 200 that could be discovered once the Kuiper belt has been fully explored. Ceres is the largest body in the asteroid belt, while Pluto, Haumea, and Makemake are members of the Kuiper belt and Eris is a member of the scattered disc.