Utility Helicopters

Search for popular Utility Helicopter pictures
Medivac Helicopters
UH-60 Black Hawk
Huey Helicopter
OH-58 Kiowa
A Utility Helicopter is a multi-role helicopter. A utility military helicopter can fill roles such as ground attack, air assault, cargo, reconnaissance and troop transport. Their size is generally between cargo helicopters and light observation helicopters.
OH-58 Kiowa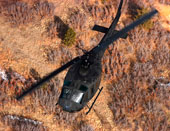 A UH-1 Huey in flight.
The OH-58 Kiowa is a family of single-engine, single-rotor, military helicopters used for observation, utility, and direct fire support. The latest model, the OH-58D Kiowa Warrior, is primarily operated in an armed reconnaissance role in support of ground troops.
UH-1N Twin Huey
The UH-1N is a light-lift utility helicopter used to support Air Force Space Command missile wings and groups. The helicopter has a number of uses. Its primary mission includes:
Airlift of emergency security and disaster response forces,
Security surveillance of off-base movements of nuclear weapons convoys and test range areas during launch conditions
Space shuttle landing support, priority maintenance dispatch support, and emergency positive control document changes
Response to search and rescue operations
The Huey provides utility combat helicopter support to the landing force commander during ship-to-shore movement and in subsequent operations ashore.
UH-60 Black Hawk
The UH-60 Black Hawk is a four-bladed, twin-engine, medium-lift utility helicopter. The Black Hawk helicopter series can perform a wide array of missions, including the tactical transport of troops, electronic warfare, and aeromedical evacuation. The Black Hawk is equipped with advanced avionics and electronics for increased survivability and capability, such as the Global Positioning System.
The UH-60 comes in many variants, and many different modifications. The U.S. Army variants can be fitted with the stub wings to carry additional fuel tanks or weapons. Variants may have different capabilities and their respective equipment in order to fulfill different roles.